It is our great pleasure to announce the release of a new interior ocean carbon relevant data product: GLobal Ocean Data Analysis Project version 2, GLODAPv2!

www..info

GLODAPv2 includes all data from the original GLODAP, data from CARINA and PACIFICA, and data from 168 new cruises – all in all data from 724 cruises covering 1972 to 2013.

All data included in GLODAPv2 have been evaluated for measurement bias and adjusted appropriately, using a consistent method. The end result is the most comprehensive and rigorously quality controlled ocean interior data product for marine biogeochemistry studies.

GLODAPv2 consist of three elements:

a data base with original cruise data, as submitted by individual data providers but updated to WOCE Exchange format,
a merged data product, with measurement biases removed for key biogeochemical variables, and
a mapped climatology of (ii) consisting of global 3D fields of the seawater distribution of CO2 chemistry and other parameters.

Analysis of GLODAPv2 parameters will allow for quantitative assessment of biogeochemical changes and feedbacks between climate change and the ocean system. GLODAPv2 is the result of a multi-year global team effort funded by EU-IP CARBOCHANGE, US NSF, US-NASA, US DOE, the SCOR-IOC International Ocean Carbon Coordination Project (IOCCP) and many other projects, programs and organisations.

The procedures and results are extensively documented in:

Olsen, A., R. M. Key, S. van Heuven, S. K. Lauvset, A. Velo, X. Lin, C. Schirnick, A. Kozyr, T. Tanhua, M. Hoppema, S. Jutterström, R. Steinfeldt, E. Jeansson, M. Ishii, F. F. Pérez & T. Suzuki: An internally consistent data product for the world ocean: the Global Ocean Data Analysis Project, version 2 (GLODAPv2), Earth System Science Data Discussions, doi:10.5194/essd-2015-42, in review, 2016

Lauvset, S. K, R. M. Key, A. Olsen, S. van Heuven, A. Velo, X. Lin, C. Schirnick, A. Kozyr, T. Tanhua, M. Hoppema, S. Jutterström, R. Steinfeldt, E. Jeansson, M. Ishii, F. F. Pérez, T. Suzuki & S. Watelet: A new global interior ocean mapped climatology: the 1°x1° GLODAP version 2, Earth System Science Data Discussions, doi:10.5194/essd-2015-43, in review, 2016

Key, R. M, A. Olsen, S. van Heuven, S. K. Lauvset, A. Velo, X. Lin, C. Schirnick, A. Kozyr, T. Tanhua, M. Hoppema, S. Jutterström, R. Steinfeldt, E. Jeansson, M. Ishii, F. F. Perez, and T. Suzuki, 2015, Global Ocean Data Analysis Project, version 2 (GLODAPv2), ORNL/CDIAC-162, NDP-093, Carbon Dioxide Information Analysis Center, Oak Ridge National Laboratory, Oak Ridge, Tennessee, US.

BACKGROUND ON OCEAN INTERIOR DATA EFFORTS

Synthesis of ocean interior carbon and carbon-relevant data has been supported by IOCCP since the beginning of the project. Such data are of fundamental importance for accurate assessments of oceanic carbon inventories and uptake rates and for model validation. Over time, three efforts were initiated: GLODAP(v1.1), CARINA and PACIFICA.

All follow rigorous and ever-improving data quality control (QC) procedures to assure the highest possible internal data quality and consistency with other efforts. Key members of the international marine CO2 community over the past 4 years were assembling the new global carbon data product, Global Ocean Data Analysis v2 (GLODAPv2). This product assembles all past carbon and carbon-relevant data products covering interior ocean into one harmonized data package. Specifically the data from the previously assembled products CARINA, GLODAP v1.1 and PACIFICA. Additionally data from almost two hundred "new" cruises were added to this collection. IOCCP continues to support this challenging effort.



Responsible

SSG Member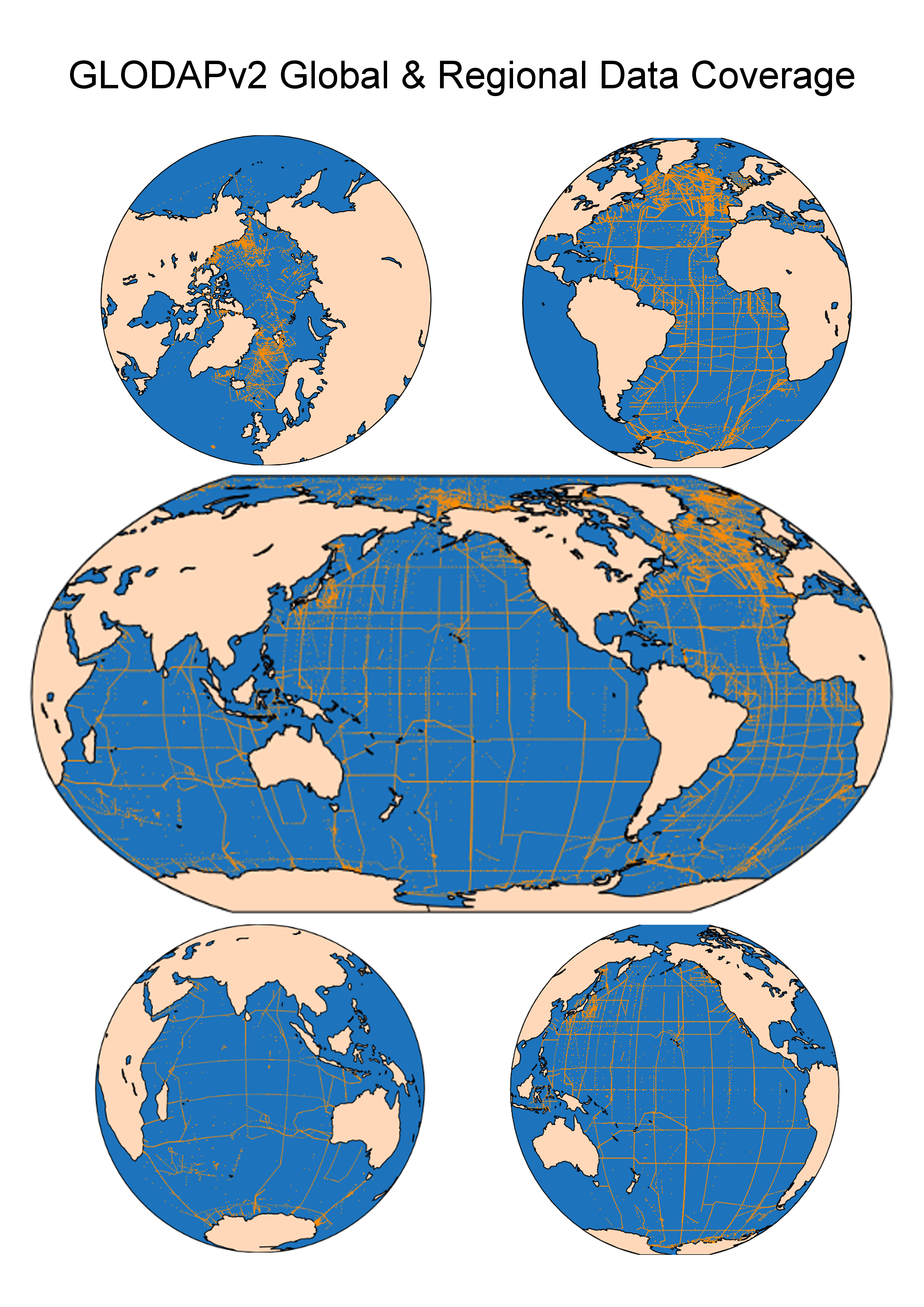 GLobal Ocean Data Analysis Project

The GLobal Ocean Data Analysis Project (GLODAP) is a cooperative effort to coordinate global synthesis projects funded through the U.S. National Oceanic and Atmospheric Administration (NOAA), the U.S. Department of Energy (DOE), and the National Science Foundation (NSF) as part of the Joint Global Ocean Flux Study - Synthesis and Modeling Project (JGOFS-SMP).

Cruises conducted as part of the World Ocean Circulation Experiment (WOCE), JGOFS, and the NOAA Ocean-Atmosphere Exchange Study (OACES) over the decade of the 1990s have created an oceanographic database of unparalleled quality and quantity. These data provide an important asset to the scientific community investigating carbon cycling in the oceans.

The central objective of this project is to generate a unified data set to help determine the global distributions of both natural and anthropogenic inorganic carbon, including radiocarbon. These estimates provide an important benchmark against which future observational studies will be compared. They also provide tools for the direct evaluation of numerical ocean carbon models.

Atlantic ocean Carbon Synthesis group

This project was initiated at the IOCCP-CarboOcean Initial Atlantic Ocean Carbon Synthesis Meeting, June 28-30 2006, Laugarvatn, Iceland. The meeting brought together 23 participants from 9 countries with expertise ranging from ship-based hydrography and carbon measurements, physical oceanography, surface pCO2 variability, CFC and tracer measurements, O2 on profiling floats, modeling, and data synthesis and management. During the meeting it was decided that the CARINA (Carbon in the Atlantic) data synthesis should be extended to include the Arctic and Southern Oceans. The Workshop participants developed three coordinated synthesis groups and a common data module:

North Atlantic working group (lead: Are Olsen, Bjerknes Center for Climate Research, Bergen, Norway)
Atlantic working group (lead: Toste Tanhua, IFM-GEOMAR, Kiel, Germany)
South Atlantic / Southern Ocean (lead: Mario Hoppema, AWI, Bremerhaven, Germany)
Data: Robert Key, Princeton University, USA

These groups met three times after the Iceland meeting; in Kiel, Germany (March 2007), Delmenhorst, Germany (December 2007) and Paris, France (June 2008) to tune the methodology and evaluate the results. Further more, an interactive website was developed that allowed the different investigators to upload and view results of the synthesis.

By the end of 2008, the CARINA secondary quality control was finalized. After this the individual cruise data in WOCE exchange format, as well as three merged data products, were published on CDIAC (CARINA at CDIAC) and on CCHDO (CARINA at CCHDO). Working documents, and updates on follow-up activities are also available from the CDIAC website. In addition to these data, an ODV collection and Matlab routines to facilitate reading the data was added to the CIDAC site. The documentation of the CARINA project is primarily done through 20 articles published in a special issue in Earth System Science Data.

North Pacific Carbon Synthesis Group

This synthesis activity was launched with a workshop entitled "Understanding North Pacific Carbon-Cycle Changes: A Data Synthesis and Modeling Workshop", held in Seattle in June 2004. This workshop was sponsored by NOAA's Global Carbon Cycle Program with additional support from the North Pacific Marine Science Organization (PICES), The Global Carbon Project (GCP), and the University of Washington Program on Climate Changes (UWPCC). This workshop addressed 3 primary questions:

1. How are air-sea CO2 fluxes in the North Pacific affected by different modes of variability?

2. How and why are the North Pacific distribution patterns of carbon, nutrients and oxygen in the water column changing with time?

3. What are the requirements for detecting a climate change signal in the North Pacific carbon cycle?

A special section of the Journal of Geophysical Research entitled "North Pacific Carbon Cycle Variability and Climate Change" was published in 2006 (C. Sabine and N. Gruber, guest editors, Introduction doi:10.1029/2006JC003532).

In 2005 this international collaboration was further formalized with the formation of the PICES Section on Carbon and Climate. The CC-S terms of reference (adopted November 2005, revised April 2008) are to:

1. Coordinate and encourage ongoing and planned national and international syntheses of carbon cycle research studies in the North Pacific and, where necessary and appropriate, for the larger Pacific basin;

2. Ensure effective two-way communication with other international scientific groups that have a responsibility for the coordination of ocean carbon studies, such as the International Ocean Carbon Coordination Project (IOCCP), CLIVAR/CO2 Repeat Hydrography and the SOLAS/IMBER implementation group for carbon research;

3. Review the existing information on carbon cycling in the North Pacific, including anthropogenic carbon, the biological pump, impacts of ocean acidification on marine biota, and possible feedbacks to atmospheric greenhouse gases; identify gaps in our knowledge, and make prioritized recommendations for future research;

4. Periodically review the status of the methodology of CO2 measurements, including the preparation of standards and reference materials, and advise on inter-calibration and quality control procedures;

5. Identify suitable data sets on the oceanic CO2 system in the Pacific region as they become available, and recommend the mechanisms of data and information exchange;

6. Carry out and publish (in the refereed literature) basin-scale syntheses of carbon cycling in the North Pacific, including new data whenever appropriate, and encourage scientific interpretation of these evolving data sets;

7. Organize symposia, workshops, or Annual Meeting sessions on the carbon cycle, ocean acidification, and climate studies in the North Pacific.

Pursuant to the TOR (particularly 1 and 6), a major data synthesis effort is now underway. This project is known as PACIFICA and is coordinated by M. Ishii (Japan) and R. Key (United States). This project has adopted many of the methodologies developed by CARINA in the Atlantic and is expected to be completed in early 2013.