News
+ more news
Friday, 21 January 2022
The Scientific Committee on Oceanic Research (SCOR) Secretariat invites proposals for new working groups to commence activities in late 2022. Deadline for submissions is 30 April 2022. The selection of the new SCOR working groups will take place at the 2022 SCOR Annual Meeting scheduled to take place in Busan, Korea, on the week of the 3-7 October 2022.
You can find instructions, guidelines and a template to help prepare the proposals by following the link here. For more information, read the full call here.
Thursday, 20 January 2022
­Please join the Global Ocean Oxygen Network (IOC Expert Working Group GO2NE) for a new session of its webinar series on ocean deoxygenation. This 10th webinar will take place on 26 January 2022 at 15:00-16:00 UTC. The webinar will feature presentations by: Niels van Helmond (Utrecht University, the Netherlands) on "Sedimentary trace metals: a powerful indicator for bottom water redox conditions," and Laura Bristow (University of Southern Denmark, Denmark) on "Nitrogen cycling in anoxic waters: oxygen contamination and the need for in situ measurements." You can register for the webinar HERE. Recordings from this and past webinars are available from here: https://www.youtube.com/results?search_query=unesco+go2ne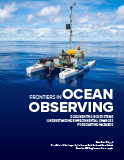 Tuesday, 11 January 2022
We would like to let you know that Oceanography, the official magazine of The Oceanography Society, published its inaugural supplement on ocean observing, entitled "Frontiers in Ocean Observing: Documenting Ecosystems, Understanding Environmental Changes, Forecasting Hazards." Articles in this collection describe new technologies and reveal some exciting results that advance our understanding of the world ocean and its resources and support its sustainable use and management. Topics covered in the supplement align with the priorities of the UN Decade of Ocean Science for Sustainable Development (2021–2030) in the following areas: (1) Ocean-Climate Nexus, (2) Ecosystems and Their Diversity, (3) Ocean Resources and the Economy Under Changing Environmental Conditions, (4) Pollutants and Contaminants and Their Potential Impacts on Human Health and Ecosystems, and (5) Multi-Hazard Warning Systems. The sixth and closing chapter describes several exciting new ocean observing technologies.
The supplement contains several articles related to marine biogeochemistry observations, including contributions from IOCCP SSG and Office members. You can access the whole collection here: https://tos.org/oceanography/issue/volume-34-issue-04-supplement
Upcoming IOCCP Events
No events found
The IOCCP promotes the development of a global network of ocean carbon observations for research through technical coordination and communication services, international agreements on standards and methods, and advocacy and links to the global observing systems. The IOCCP is co-sponsored by the Scientific Committee on Oceanic Research and the Intergovernmental Oceanographic Commission of UNESCO. Read more…

Calendar
| | |
| --- | --- |
|   | IOCCP meetings, IOCCP-related meetings as well as events related to a wider scope in marine biogeochemistry. |