News
+ more news

Thursday, 08 July 2021

Thursday, 01 July 2021
We are delighted to announce the publication of "A vision for FAIR ocean data products" in Nature Communications authored by the GLobal Ocean Data Analysis Project (GLODAP) Reference Group Co-Chairs Toste Tanhua (GEOMAR, Germany) and Siv Lauvset (NORCE, Norway) and others, including several current and former members of the IOCCP Scientific Steering Group.
The paper, informally known as the GLODAP Manifesto, highlights the critical role which the co-located high-quality measurements of physical and biogeochemical parameters collated in GLODAP play in quantifying and monitoring the ocean cycles of carbon and related biogeochemical EOVs, and thus informing the stakeholders (e.g. the IPCC assessments, the Global Climate Observing System indicators) on several critical processes. Making GLODAP fully FAIR (findable, accessible, interoperable, and reusable) requires substantial upgrades to the existing data extraction system to benefit various users and their growing needs. Recognizing that GLODAP, just like SOCAT and other ocean data synthesis products, remains a largely unfunded, community effort, the paper calls for building and supporting a sustained infrastructure and associated resources to ensure that GLODAP continues to provide the global community with a unique service, the importance of which will only increase as we step up our climate mitigation and adaptation efforts.
The paper is available in open access from here. It can be cited as:
Tanhua, T., Lauvset, S.K., Lange, N. et al. A vision for FAIR ocean data products. Commun Earth Environ 2, 136 (2021). https://doi.org/10.1038/s43247-021-00209-4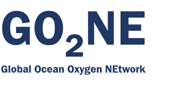 Tuesday, 22 June 2021
Please join the Global Ocean Oxygen Network (IOC Expert Working Group GO2NE) for a new session of its webinar series on ocean deoxygenation. The eighth webinar will take place 24 June 2021, 14:00 h UTC. The speakers will present latest science on the impacts of reduced oxygen in coastal zones. The webinar will feature presentations by a more senior and an early-career scientist, 20 minutes each followed by 10 minutes moderated discussion sessions. Presentations, questions and answers will be in Spanish, however we will try to accommodate English questions and to facilitate the understanding slides will be in English. Please register for the webinar here.
The webinar will be moderated by Ivonne Montes (Subdirección de Ciencias de la Atmósfera e Hidrósfera, Instituto Geofísico del Perú, Peru), and the presentations will be given by Veronica Molina (Laboratorio Observatorio de Ecología Microbiana, Facultad de Ciencias Naturales y Exactas, Universidad de Playa Ancha, Chile) on "Estudio de »consorcios microbianos« en la Zona de Mínima de Oxígeno del Pacífico Sudoriental" and Matias Pizarro-Koch (Millennium Nucleus Understanding Past Coastal Upwelling Systems and Environmental Local and Lasting Impacts (UPWELL), Chile) on "Modelación Fisico-Biogeoquimica de la Zona de Minimo Oxígeno subtropical frente a Chile."
If you missed one of the previous editions, you can watch the the recordings here. If you want to receive further information about upcoming webinars please register here.
Upcoming IOCCP Events
No events found
The IOCCP promotes the development of a global network of ocean carbon observations for research through technical coordination and communication services, international agreements on standards and methods, and advocacy and links to the global observing systems. The IOCCP is co-sponsored by the Scientific Committee on Oceanic Research and the Intergovernmental Oceanographic Commission of UNESCO. Read more…

Calendar
| | |
| --- | --- |
|   | IOCCP meetings, IOCCP-related meetings as well as events related to a wider scope in marine biogeochemistry. |