News
+ more news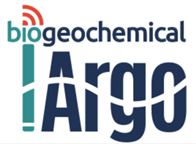 Wednesday, 17 October 2018
We would like to let you know that the Biogeochemical-Argo program has issued its 5th Newsletter which summarizes the program highlights and coming events. In this issue you can learn about: unanimous support from IOC-UNESCO Member States given to the proposal to incorporate biogeochemical sensors in the Argo array, Canada's financial commitment to support the implementation of the BGC-Argo program, past and upcoming workshops, and reports from successful float deployments, among other news.
You can subscribe to receive future issues of the Biogeochemical-Argo newsletter via this link.

Monday, 15 October 2018
We are happy to inform you about a newly published "Guideline of Ocean Observations" edited and published by The Oceanographic Society of Japan (JOS). The Guideline describes state-of-the-art protocols of the measurement of various oceanographic parameters that cover wide range of oceanographic topics from ocean weather to seafloor observation. The Guideline consists of 64 chapters in 10 volumes, but note that a few of the chapters are currently still in writing. In the process of protocol writing, 30 authors reviewed various existing international guidelines such as ISO, IAPSO and GO-SHIP guidelines, and examined the best protocols for each parameter. For those parameters which are not included in any existing international guidelines, original protocols were newly described by the authors and then reviewed by referees. These guidelines will be useful for oceanographers worldwide, and oceanographers of all countries are invited to use this Guideline as a reference for their ocean observations. The 3rd edition of all the volumes of the Guideline can be accessed freely and openly as PDFs at: http://kaiyo-gakkai.jp/jos/en/guide/preface

Friday, 12 October 2018
We are very happy to inform you that the Global Ocean Oxygen Network (GO2NE) formed by the Intergovernmental Oceanographic Commission of UNESCO (IOC-UNESCO) will hold an international Summer School from September 2 to 8, 2019, on Xiamen University's Xiang'an Campus in China, hosted by the State Key Laboratory of Marine Environmental Science. IOCCP is one of the co-sponsors of the event, and IOCCP SSG member Véronique Garçon is part of the Scientific and the Organising Committee.
The IOC-GO2NE SS2019 will bring together 40 PhD students and early career scientists and 16 world-leading international scientists. It aims to connect young researchers with leading scientists from the academic and SMEs world working on oxygen not only in a theoretical framework, but also through practical sessions on laboratory experiments, field work, modelling and special sessions on communication, ethics, and engagement with stakeholder. The IOC-GO2NE SS2019 thus will provide to a generation of young scientists the crucible for designing innovative approaches to achieve the societal transition towards the Sustainable Development Goals approved by the United Nations for the next decade. To find more information on the program, organisation and logistics, please see the course website at: http://mel.xmu.edu.cn/summerschool/go2ne/index.asp.
Application closes on 15 November 2018. You can submit your online applications by following this link: http://mel.xmu.edu.cn/summerschool/go2ne/applicationform.asp
The IOCCP promotes the development of a global network of ocean carbon observations for research through technical coordination and communication services, international agreements on standards and methods, and advocacy and links to the global observing systems. The IOCCP is co-sponsored by the Scientific Committee on Oceanic Research and the Intergovernmental Oceanographic Commission of UNESCO. Read more…

Calendar
| | |
| --- | --- |
| | IOCCP meetings, IOCCP-related meetings as well as events related to a wider scope in marine biogeochemistry. |