News
+ more news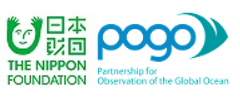 Monday, 13 January 2020
The application window is now open for the next Nippon Foundation-POGO Centre of Excellence (NF-POGO CofE), which provides world class education and training in the field of observational oceanography. This is an intensive training course for young professionals at the post-graduate level, ten months in duration, with an intake of ten trainees per year. The course is sponsored by the Nippon Foundation and hosted by the Alfred Wegener Institute for Polar and Marine Research. It is conducted at AWI's site on the offshore island of Helgoland with focus on open-ocean sciences and also at AWI's site on the UNESCO reserve Waddensea island of Sylt where shelf/basin interactions are topics of study.
The call for applications will be open until the 15 March 2020. Successful candidates will be informed by end of June 2020, with training scheduled to begin in the second half of October. You can read more about what the training involves and submit an application here: https://www.awi.de/en/about-us/sites/helgoland/visiting-scientists/centre-of-excellence-nf-pogo.html

Thursday, 02 January 2020
We would like to draw your attention to the recent IUCN review report on "Ocean deoxygenation: Everyone's problem." This report is the largest peer-reviewed study so far into the causes, impacts and possible solutions to ocean deoxygenation. Ocean regions with low oxygen concentrations are expanding, with around 700 sites worldwide now affected by low oxygen conditions – up from only 45 in the 1960s. In the same period, the volume of anoxic waters – areas completely depleted of oxygen – in the global ocean has quadrupled, according to the report. The ocean is expected to lose 3–4% of its oxygen inventory globally by the year 2100 under a business-as-usual scenario, but the global average masks local changes that are predicted to be, for example, more severe in mid to high latitudes. Most of the losses are predicted to be concentrated in the upper 1000 m of the water column, which is richest in marine biodiversity. The full report and summary for policy makers are available from: https://www.iucn.org/theme/marine-and-polar/our-work/climate-change-and-oceans/ocean-deoxygenation
At the same time we would like to inform you about a related OceanObs'19 Community White Paper on "Multidisciplinary Observing in the World Ocean's Oxygen Minimum Zone Regions: From Climate to Fish — The VOICE Initiative." The Variability of the Oxycline and its ImpaCt on the Ecosystem (VOICE; http://www.ioccp.org/voice) initiative, supported by IOCCP since its beginning in 2017, aims to demonstrate how societal benefits drive the need for integration and optimization of biological, biogeochemical, and physical components of regional ocean observing related to eastern boundary systems (EBSs). VOICE chose to focus on the upper oxycline (transition between high and low oxygen waters) which is fundamentally important for the ecosystem structure and can be a useful proxy for multiple observing objectives connected to EBSs that neighbour oxygen minimum zones. In this paper, we present a first readiness level assessment for ocean observing of the oxycline in EBS around the globe. The paper can be accessed openly and freely at: https://www.frontiersin.org/articles/10.3389/fmars.2019.00722/full

Friday, 20 December 2019
This is to let you know that a new version of the AtlantOS Ocean Data QC software is available. The highlighted new features of this version include: (i) export current plot images in a single PDF, (ii) if Octave path is not detected automatically, it can be set manually. You can download the installer from the GitHub repository here or you can just upgrade the app if you already have it installed in the system.
The IOCCP promotes the development of a global network of ocean carbon observations for research through technical coordination and communication services, international agreements on standards and methods, and advocacy and links to the global observing systems. The IOCCP is co-sponsored by the Scientific Committee on Oceanic Research and the Intergovernmental Oceanographic Commission of UNESCO. Read more…

Calendar
| | |
| --- | --- |
| | IOCCP meetings, IOCCP-related meetings as well as events related to a wider scope in marine biogeochemistry. |