News
+ more news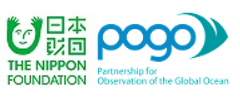 Wednesday, 13 February 2019
We would like to let you know that applications are open for the next Nippon Foundation-POGO Centre of Excellence (NF-POGO CofE) at the Alfred Wegener Institute (AWI) on the islands of Helgoland and Sylt. The course is open to 10 participants. Trainees must have at least a first degree in science. Preference will be given to applicants who currently hold a position in a research or academic institution in a developing country and anticipate returning to the country after completion of training at the NF-POGO Centre of Excellence at AWI. The 10-month training will promote excellence in integrated, multidisciplinary oceanography at a global scale by emphasizing core skills (e.g. writing, scientific presentations, statistics and experimental design) and specialised scientific topics such as modelling, remote sensing, ocean-atmosphere interactions.
Your application should be submitted by 1 March 2019. Applicants will be notified if they have been selected by end of May 2019. Scholarships will be provided from NF-POGO through the CofE that cover travel, room, board, tuition, and a modest allowance for those students accepted into the programme. For more information on course synopsis, eligibility and prospects, please see the website HERE.

Monday, 11 February 2019
We would like to inform you that the Tropical Pacific Observing System 2020 (TPOS 2020) Project released its Second Report draft for community review. TPOS 2020 released its First Report in 2016 and the Second Report builds on that document. It updates the evolving design of the Backbone observing system, drawing on new research and evidence including feedback received on the First Report, and responds to gaps identified by sponsors of the Project. If you would like to be a reviewer of the Second Report, please find it on the TPOS 2020 website (http://tpos2020.org/project-reports/second-report/), along with the Review Template. The marine biogeochemistry community might be particularly interested to review the contents of Chapter 4: Biogeochemical and Ecosystem Observations.
Please provide all comments by February 28, 2019. Note that this is the ONLY review period for the Second Report. Correspondence and questions should be addressed to This email address is being protected from spambots. You need JavaScript enabled to view it..
Friday, 08 February 2019
The Scientific Committee on Oceanic Research (SCOR) is now accepting applications for its next Executive Director, following the retirement of its current Executive Director in boreal fall 2019. The new SCOR Executive Director will be based in United States; the SCOR Secretariat is currently located at the University of Delaware. The position requires international travel. The starting annual salary will be competitive and will depend on qualifications, salary history, and experience of the successful applicant. Interviews will take place at the University of Delaware during the week of 10‐14 June 2019. For more information on duties and requirements, please see the announcement.
The application deadline is 1 April 2019.
The IOCCP promotes the development of a global network of ocean carbon observations for research through technical coordination and communication services, international agreements on standards and methods, and advocacy and links to the global observing systems. The IOCCP is co-sponsored by the Scientific Committee on Oceanic Research and the Intergovernmental Oceanographic Commission of UNESCO. Read more…

Calendar
| | |
| --- | --- |
| | IOCCP meetings, IOCCP-related meetings as well as events related to a wider scope in marine biogeochemistry. |