News
+ more news

Monday, 29 June 2020
On behalf of the GLODAP Reference Group, and hundreds of seagoing oceanographers that tirelessly have collected data all over the ocean, we are happy to announce the publication of GLODAPv2.2020.
The Global Ocean Data Analysis Project (GLODAP) data product provides access to quality controlled surface to bottom ocean biogeochemical data, with an emphasis on seawater inorganic carbon. GLODAPv2.2020 is an update of the previous version, with 106 additional cruises, extension of time coverage until 2019, and the inclusion of available discrete fCO2 values in the merged product files. GLODAPv2.2020 includes measurements from more than 1.2 million water samples from the global ocean collected on 946 cruises. The data for the 12 core variables have undergone extensive quality control, especially systematic evaluation of bias. The data are available in two formats: (i) as submitted by the data originator but updated to WOCE exchange format and (ii) as a merged data product with adjustments applied to minimize bias. The original data, their documentation and doi codes are available at the Ocean Carbon Data System (OCADS) of NOAA NCEI. This site also provides access to the merged data product, which is provided as a single global file and as four regional ones. For a more detailed summary of the product see the attached poster.
The continuous work to regularly update and refine GLODAP is a priority for IOCCP, and we are happy to support this effort.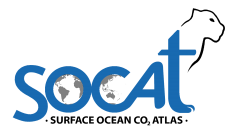 Thursday, 18 June 2020
On behalf more than 100 contributing scientists worldwide, we proudly announce the release of 2020 version of the Surface Ocean CO2 Atlas (SOCAT, www.socat.info) which is a synthesis activity with annual public releases prepared by international marine carbon scientists. SOCAT version 2020 contains 28.2 million in situ surface ocean fCO2 (fugacity of CO2) measurements for the global ocean and coastal seas with an accuracy < 5 μatm, while a further 2.3 million fCO2 values with an accuracy of 5 to 10 μatm are made available separately. SOCAT documents the increase in surface ocean CO2 (carbon dioxide), a critical measure as the oceans are taking up one quarter of the global CO2 emissions from human activity.
The SOCAT community-led synthesis product is a key step in the value chain based on in situ inorganic carbon measurements of the oceans, which provides policy makers with essential information on ocean CO2 uptake in climate negotiations. The global need for accurate knowledge of ocean CO2 uptake and its variation makes sustained funding for in situ surface ocean CO2 observations imperative. The annual SOCAT release is a Voluntary Commitment for SDG 14.3 (#OceanAction20464) and contributes to the UN Decade of Ocean Science for Sustainable Development. The poster handout has further details on 2020 version key features, findings and other information, including timeline for preparing the 2021 version.
Monday, 01 June 2020
We would like to let you know that the call for applications for an Early-Career Scientist (ECS) to join the SCOR Executive Committee is open. The ECS in the SCOR EC will help reaching out to the broader early-career community and get it involved into SCOR activities. Term of appointment is for 2 years. More information about the position and application instructions can be found here.
Deadline for submission of applications: 17 July 2020. Please email the completed application form and requested documents to the SCOR Secretariat (This email address is being protected from spambots. You need JavaScript enabled to view it.).
The IOCCP promotes the development of a global network of ocean carbon observations for research through technical coordination and communication services, international agreements on standards and methods, and advocacy and links to the global observing systems. The IOCCP is co-sponsored by the Scientific Committee on Oceanic Research and the Intergovernmental Oceanographic Commission of UNESCO. Read more…

Calendar
| | |
| --- | --- |
| | IOCCP meetings, IOCCP-related meetings as well as events related to a wider scope in marine biogeochemistry. |