News
+ more news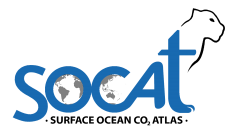 Wednesday, 15 June 2022
We are excited to announce the release of Surface Ocean CO2 Atlas (SOCAT) version 2022 which is now available via www.socat.info. The ocean absorbs a quarter of the global CO2 (carbon dioxide) emissions from human activity. The community-led Surface Ocean CO2 Atlas (www.socat.info) is key for the quantification of ocean CO2 uptake and its variation, now and in the future. 
SOCAT version 2022 has quality-controlled in situ surface ocean fCO2 (fugacity of CO2) measurements made on ships, moorings, autonomous and drifting surface platforms for the global ocean and coastal seas from 1957 to 2021. The main SOCAT synthesis and gridded products contain 33.7 million fCO2 values with an estimated accuracy of < 5 μatm. A further 6.4 million fCO2 sensor data with an accuracy of 5 to 10 μatm are separately available. SOCAT is used for quantification of ocean CO2 uptake and ocean acidification and for evaluation of climate models and sensor data. The SOCAT synthesis products are a crucial step in the value chain based on in situ inorganic carbon measurements of the ocean, which provides policy makers with vital information in climate negotiations. The need for accurate knowledge of global ocean CO2 uptake and its variation makes sustained funding of in situ surface ocean CO2 observations and their synthesis imperative. 
Please see the SOCATv2022 release poster for more information. Thank you to everyone who has contributed to the timely, annual release of SOCATv2022!
Thursday, 09 June 2022
We would like to bring your attention to two events with looming deadlines for abstract submission: 20 June for the 8th SOLAS Open Science Conference, and 15 June for the 7th Argo Science Workshop. 
Thursday, 21 April 2022
The Partnership for Observation of the Global Ocean (POGO) and the Scientific Committee on Oceanic Research (SCOR) are pleased to announce that the POGO-SCOR Visiting Fellowship programme for 2022 is now open for applications. The scheme is designed to promote training and capacity development, leading towards a global observation scheme for the oceans, and is aimed at scientists, technicians, graduate students (preferably PhD) and post-doctoral fellows involved in oceanographic work at centres in developing countries and countries with economies in transition. Priority is given to applicants in the early stages of their career development. The fellowship offers the opportunity to visit other oceanographic centres for a short period (1 to 3 months) for training on aspects of oceanographic observations, analyses, and interpretation. It provides financial support to cover the return airfare from the fellow's home country to the host institution, and a contribution towards accommodation and subsistence for the period of the visit.
The deadline for applications is 8 May 2022. All applications should be made through the application portal which will open on the 30 of April. For more information and details on how to apply please see:
https://pogo-ocean.org/capacity-development/pogo-scor-fellowship-programme/ 
Please e-mail This email address is being protected from spambots. You need JavaScript enabled to view it. should you have any queries and feel free to circulate this announcement to anyone you think might be interested.
Upcoming IOCCP Events
No events found
The IOCCP promotes the development of a global network of ocean carbon observations for research through technical coordination and communication services, international agreements on standards and methods, and advocacy and links to the global observing systems. The IOCCP is co-sponsored by the Scientific Committee on Oceanic Research and the Intergovernmental Oceanographic Commission of UNESCO. Read more…

Calendar
| | |
| --- | --- |
|   | IOCCP meetings, IOCCP-related meetings as well as events related to a wider scope in marine biogeochemistry. |