Nutrients have been amongst major observational variables in various international global ocean observation expeditions, such as the Geochemical Ocean Sections Study (GEOSECS) in the 1970s, the World Ocean Circulation Experiment (WOCE) in the 1990s, and the on-going Climate Variability and Predictability (CLIVAR). Observation of the natural variability of nutrients in the world's oceans, and investigation of temporal and spatial changes due to the oceans' response to climate change and increasing carbon dioxide in the atmosphere, continue to be important topics of oceanographic research. Therefore, the comparability and traceability of nutrient data in the world's oceans are fundamental issues in marine science, particularly for studies of global climate change.

Since 1965 numerous inter-laboratory comparison studies that have been carried out to improve comparability of nutrients data in the world oceans (UNESCO, 1965, 1967; ICES 1967, 1977; Kirkwood, 1991, Aminot et al., 1995; Topping, 1997; Willie and Clancy, 2000; Clancy and Willie, 2003; Aoyama et al., 2006, 2008, 2010, 2013). However, no globally approved consensus has been achieved to date. The 4th IPCC Assessment Report in 2007 highlighted this problem inherent in comparing existing data sets: "Uncertainties in deep ocean nutrient observations may be responsible for the lack of coherence in the nutrient changes. Sources of inaccuracy include the limited number of observations and the lack of compatibility between measurements from different laboratories at different times" (Bindoff et al., 2007).

To guarantee comparability of data from different laboratories and from different research cruises, globally accepted research methods (RMs) and certified reference materials (CRMs) for nutrients' measurements are being developed and IOCCP plays an active role in these efforts. International collaboration and action is now required to harmonize oceanic nutrient data using globally accepted RMs/CRMs. Particularly important issues for the study of changes in properties of deep water masses is to develop a system by which the data within laboratories and between laboratories is comparable at the 0.1 % level. This should be both within individual cruises and extend to allowing comparison between cruises separated by decades. The IOCCP in strong collaboration with institutional and programmatic partners worldwide is going to work towards the development of such system to harmonize global oceanic nutrients analysis.

Responsible

SSG Member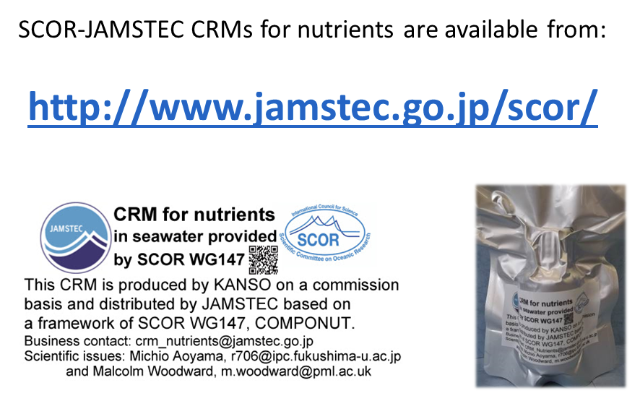 IOCCP-JAMSTEC 2017-2018 Inter-laboratory Comparison Exercise of CRM of Nutrients in Seawater
The 5th International Inter-laboratory Comparison Exercise of Certified Reference Material of Nutrients in Seawater is led IOCCP and the Japan Agency for Marine-Earth Science and Technology (JAMSTEC). The IOCCP-JAMSTEC 2017-2018 IC is planned to test the global comparability of nutrient measurements and to promote the use of CRM of nutrients in seawater. There are 71 laboratories from 31 countries/territories participating in this inter-laboratory comparison. The list of counties (with the number of laboratories) include: Argentina (1), Australia (1), Belgium (1), Brazil (2), Canada (4), China (2), Colombia (1), Denmark (1), Ecuador (1), Estonia (1), Faroe Islands (1), France (5), Germany (4), Iceland (1), India (2), Ireland (1), Israel (1), Italy (2), Japan (8), Kenya (1), Mexico (1), Netherlands (1), New Zealand (1), Norway (1), Peru (1), Poland (1), Republic of Korea (4), Russia (1), South Africa (1), Spain (2), UK (6), USA (9), Venezuela (1). A geographical distribution of the laboratories is shown in the figure below. As of 15 November 2017, packages of CRMs with Korean RM were sent to all participants.
For more information and with any questions please contact Prof. Michio Aoyama, who is the coordinator of the IOCCP-JAMSTEC 2017-2018 IC exercise, and IOCCP SSG responsible for the Nutrients theme. Information on results from previous inter-comparison studies as well as other relevant background reading can be accessed via various links at the bottom of this page.
Please note the time line of the IOCCP-JASMTEC 2017/18 IC below:
Reporting Deadline: 28 February 2018
Expected Draft of Report of Inter-comparison exercise: 30 June 2018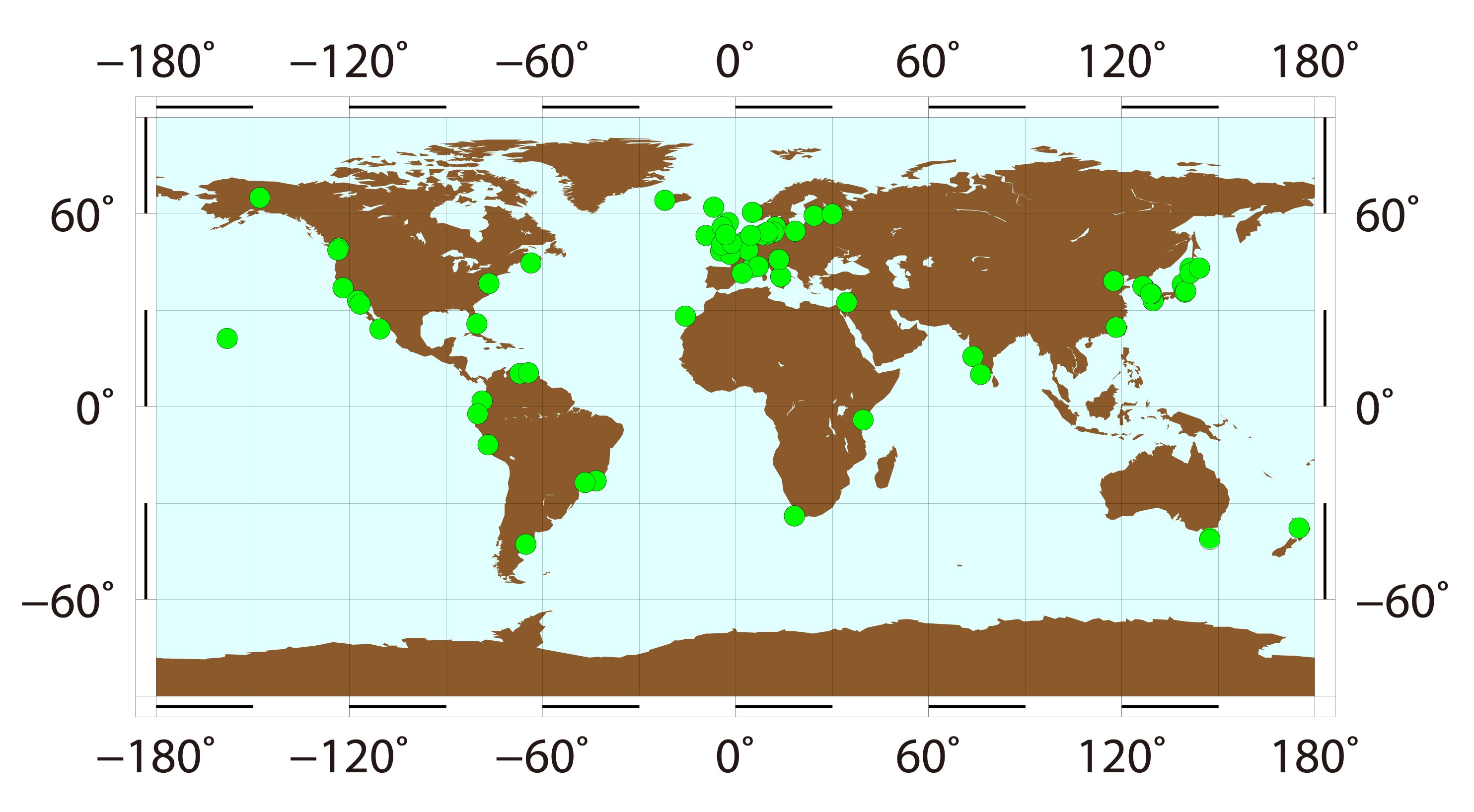 Global map showing the distribution of 71 laboratories from 31 countries/territories participating in the IOCCP-JAMSTEC 2017-2018 inter-laboratory comparison exercise of Certified Reference Material of Nutrients in Seawater.
The SCOR WG 147, through JAMSTEC, are providing a series of CRMs for nutrients in seawater (see labels and bottle above), with a new cost structure making them more accessible and affordable for the global science and research community.
JAMSTEC offers CRM bottles for sale to the global community through their web-site (in English): http://www.jamstec.go.jp/scor/,
and a dedicated mailing list: This email address is being protected from spambots. You need JavaScript enabled to view it..
More information about the SCOR-JAMSTEC CRMs can be found HERE or on the JAMSTEC website.
RELATED PROGRAMS

SCOR Working Group 147 (2015-2017): Towards comparability of global oceanic nutrient data (COMPONUT)

Acepted Proposal

SCOR-JAMSTEC Certified Reference Materials

Joint IOC-ICES Study Group on Nutrient Standards (SGONS), 2009-2011

SGONS Terms of Reference

2010 Kick-off Meeting Report (23-24 March, 2010)

CRM LINKS

SCOR-JAMSTEC Certified Reference Materials

KANSO CRMs, KANSO, Japan

NMIJ CRMs (7601-a,7602-a,7603-a), NMIJ, Japan

RELEVANT PUBLICATIONS

Aoyama M, et al. (2016). Comparability of oceanic nutrient data. Poster Cluster Community Whitepaper presented to the 2016 CLIVAR Open Science Conference "Charting the course for climate and ocean research"

CURRENT AND PLANNED ACTIVITIES

2017-2018 Inter-laboratory Comparison Exercise of Certified Reference Material for Nutrients in Seawater

Contact: Michio Aoyama (Fukushima Univ., Japan)

International Training Workshop for Nutrient Analysis, 5-9 November 2017, NIOZ, Texel, The Netherlands

(for participants from developing countries)

Contact: This email address is being protected from spambots. You need JavaScript enabled to view it. (PML, UK)

2018 Ocean Sciences Meeting - Session proposal submitted

PAST ACTIVITIES

2015 Inter-comparison Study of Certified Reference Material and Reference Material for Nutrients in Seawater (CRM & RMNS)

2012 Inter-comparison Study of a Reference Material for Nutrients in Seawater

2008 Inter-laboratory Comparison Study of a Reference Material for Nutrients in Seawater

2006 Inter-labortory Comparison Study of a Reference Material for Nutrients in Seawater
MANUALS AND GUIDES

Hydes D, Aoyama M, Aminot Alain, Bakker K, Becker S, Coverly S, Daniel Anne, Dickson A, Grosso O, Kerouel Roger, Van Ooijen J, Sato K, Tanhua T, Woodward M, Zhang J (2010). Determination of dissolved nutrients (N, P, Si) in seawater with high precision and inter-comparability using gas-segmented continuous flow analysers. In The GO-SHIP Repeat Hydrography Manual: A Collection of Expert Reports and guidelines. IOCCP Report No 14, ICPO Publication Series No. 134, version 1, 2010 (UNESCO/IOC).
Note: The GO-SHIP Manual is currently undergoing revision. Public consultation of the Nutrients chapter draft will be announced as soon as the draft is available.

M. Aoyama, K. Bakker, J. van Ooijen, S. Ossebaar, E.M.S. Woodward (2015). Report from an International Nutrient Workshop focusing on Phosphate Analysis, 2015, Yang Yang Publisher, Fukushima, Japan.
More reading and previous manuals:

Gordon LI, Jennings JC Jr., Ross AA, Krest JM (1993). A Suggested Protocol for Continuous Flow Automated Analysis of Seawater Nutrients (Phosphate, Nitrate, Nitrite and Silicic Acid) in the WOCE Hydrographic Program and the Joint Global Ocean Fluxes Study. Oregon State University College of Oceanography Descriptive Chemical Oceanography Group Technical Report 93-1, WOCE Hydrographic Program Office, Methods Manual WHPO 91-1.

GEOTRACES Cookbook: Sampling and Sample-handling Protocols for GEOTRACES Cruises. Edited by the 2013 GEOTRACES Standards and Intercalibration Committee. Version 2.0, December 2014.