On 8-10 February 2017, Global Ocean Observing System (GOOS) Panels for Physics, Biology & Ecosystems and Biogeochemistry (IOCCP), and the Ocean Research Coordination Network (Ocean RCN) co-organized a workshop on "Implementation of Multi-disciplinary Sustained Ocean Observations (IMSOO)". The 3-day workshop took place at the Florida International University campus, just north of Miami, FL, USA. 49 experts in observing and modelling ocean phenomena, representing 35 institutions from 11 countries, focused their energy on identifying the requirements for and benefits of co-located, multi-disciplinary, sustained observations around three scientific problems: open-ocean - shelf interactions, oxygen minimum zones and plankton community changes. The outcomes of this workshop are set to be instrumental in setting the stage for the upcoming OceanObs'19 Conference. Initial set of implementable recommendations is being formulated and will be soon published and followed through by the organizers over the next 2-5 years' time frame.
Background

Since the OceanObs'09 Conference, the ocean observing community has been improving coordination and collaboration amongst physical, biogeochemical and biology/ecosystem communities. Societal and scientific requirements for sustained observations have been captured in the GOOS Essential Ocean Variables (EOVs), many of which are also essential climate variables (ECVs, defined by the Global Climate Observing System reporting to the United Nations Framework Convention on Climate Change (UNFCCC)). Significant progress has been made through the introduction of the Framework for Ocean Observing in 2012 and the creation and refinement of the disciplinary EOVs, based on expert evaluation of feasibility and impact.
With advances in observing technology, and the definition of EOVs, clear opportunities exist to improve the coordinated planning and implementation of observing activities measuring EOVs across the three disciplines.
The IMSOO workshop was designed to identify priority steps forward by bringing together users of established observing networks and experts in EOVs and science in all three ocean observation disciplines.
Workshop objective and strategy
The major aims of the workshop were:
Building on the established societal and scientific requirements expressed in EOVs, identify the key applications and phenomena that will benefit from co-located multi-disciplinary sustained observations
Identify near-term innovation priorities for observing platforms and sensors to enable multi-disciplinary observations, and
Identify programmatic and professional connections between existing and emerging observing networks that will increase multi-disciplinary observations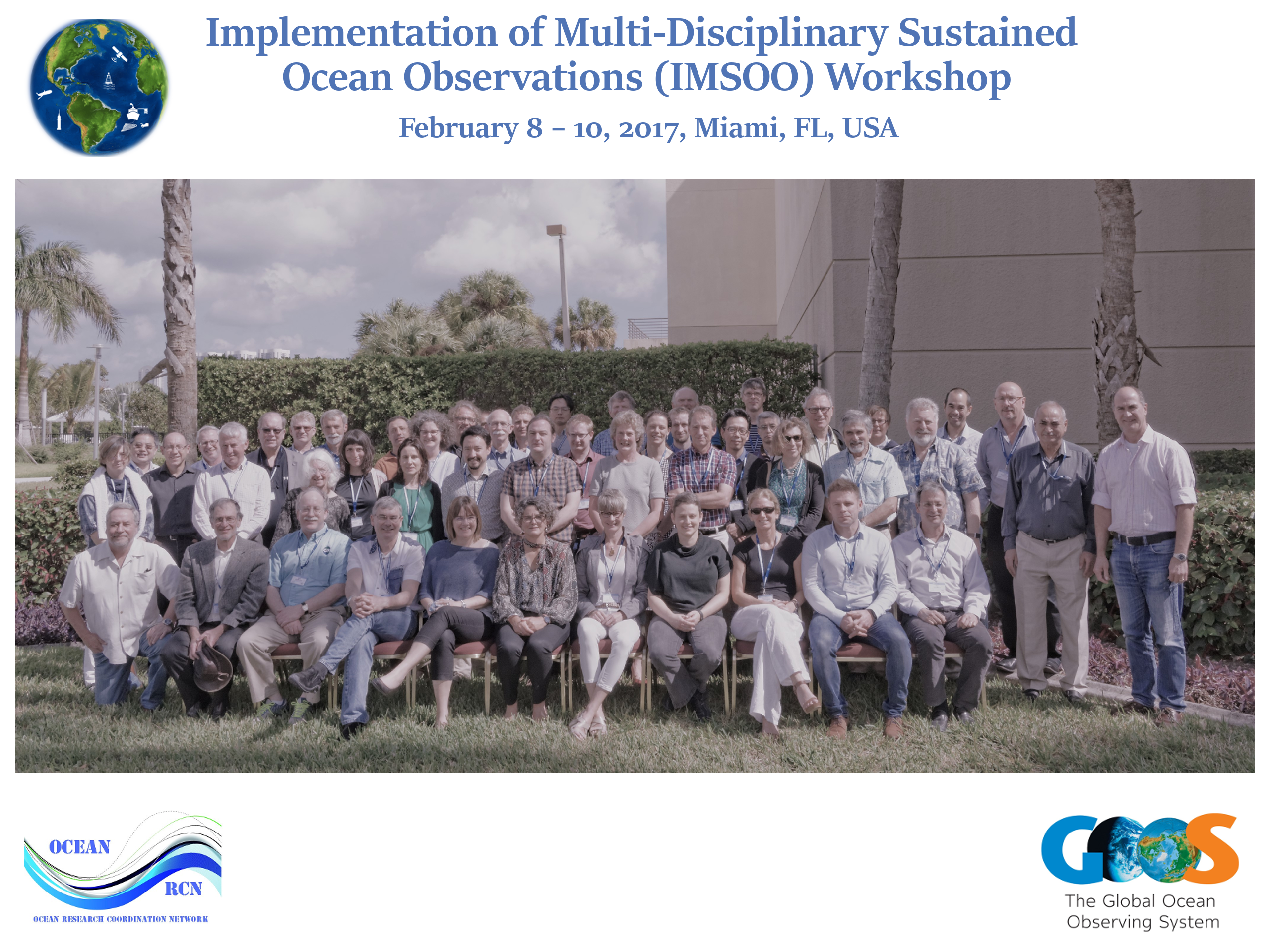 To this end, the workshop gathered 49 experts in observing and modelling ocean phenomena, representing 35 institutions from 11 countries. For a full list of participant names please see HERE.
Most of the workshop was spent in breakout groups where priority steps for implementation of multi-disciplinary sustained observations were discussed with respect to three demonstration themes:
Changes in plankton communities
Oxygen minimum zones
Open ocean - shelf interactions
These themes were chosen because they represent global and challenging problems that are best addressed through collaboration of physical, biogeochemical and biological observations and analyses. Examining these three preselected themes provided a mechanism for looking at convergence across the ocean observing disciplines. Each breakout group composed of both experts and non-experts in a particular theme, effectively introducing a wider perspective and a more critical approach to fulfilling the workshop aims.
Workshop Outcomes

Benefits of this cross-fertilization of ideas, skilfully synthesized into recommendations for an implementation plan by the workshop attendees, are expected to percolate through the ocean observing community and their efforts as we gradually move closer to fulfilling the ambitious implementation goals set at this workshop, and in the long-term improve the capability of GOOS to serve specific information needs, and to raise awareness of the foundational role of sustained ocean observations in delivering societal benefit.
The immediate outcomes from the workshop, based on specific demonstration themes, are a clear series of actions with some related milestones for efforts of collaborations across disciplines and observation platforms. These will be initially realized through joint participation in meetings and workshops planned for 2017 and 2018, with specific actions already taken to hold side meetings devoted to IMSOO topics. Other immediate actions focus around conceiving synthesis, review and position statement publications to provide the necessary context for enhancing multidisciplinary sustained observations under each demonstration theme and in response to societal needs. Finally, only a few of the planned actions fall within currently funded activities, therefore the groups will now turn towards securing required resources through funding avenues identified at the workshop.
Detailed outcomes will be documented in workshop proceedings, to be published soon.
For additional information about the workshop, see:
www.goosocean.org/imsoo
Organizing Committee

Nic Bax, GOOS Biology & Ecosystems Panel
Mark Bourassa, GOOS Physics Panel
Albert Fischer, GOOS Office Director
Katherine Hill, GOOS Physics Panel
Bob Houtman, NSF
David Legler, NOAA / JCOMM
Eric Lindstrom, NASA
Patricia Miloslavich, GOOS Biology & Ecosystems Panel
Jay Pearlman, IEEE & OceanObs RCN
Samantha Simmons, GOOS Biology & Ecosystems Panel
Bernadette.Sloyan, GOOS Physics Panel
Toste Tanhua, GOOS Biogeochemistry Panel
Maciej Telszewski, GOOS Biogeochemistry Panel
Sponsors
We kindly thank our generous sponsors: US NSF, GOOS/IOC-UNESCO, NOAA, NASA