Uncategorised
+ more news
Ocean Acidification: resources
Following is a list of selected resources of potential use to the ocean acidification community. Many resources can be found through the GOA-ON website, also linked here below.
 

2019 IOCCP & BONUS INTEGRAL Sensors Training Course:

Video lecture recordings and lectures in PDF on a number of topics related to ocean acidification observations available from the Ocean Teacher Global Academy Website HERE

 

 

 

 

 

Reference

Materials


For inquires related to purchasing Certified Reference Materials for oceanic CO2 measurements please contact Andrew Dickson's group at: This email address is being protected from spambots. You need JavaScript enabled to view it..

Below you can find some information on batches of CRMs produced so far, and 3 references describing the Reference Material program. 

 

SDG 14.3.1 Indicator methodology, data and metadata templates

 CO2 System

Calculation

Tools

Comparison of 10 packages that compute ocean carbonate chemistry, all listed below:

Uncertainty propagation add-ons - Orr et al. (2018) 
Particulate Matter - IOCCP Activities
We are developing an initial set of activities and we will indicate their progress here.
Relevant white paper from OceanObs'09 Conference
Synthesis Activities
IOCCP is committed to promoting and developing interoperable data management activities and policies to ensure open access to, and preservation of, fully documented ocean carbon and biogeochemistry data. A key activity is to promote the integration of ocean carbon and biogeochemistry information into research and assessments including the use of relevant data synthesis products. For more than a decade, IOCCP has continued to support the development of two global data synthesis projects, both constituting a tremendous community effort: Surface Ocean CO2 Atlas (SOCAT; www.socat.info) and the Global Ocean Data Analysis Project (GLODAP; www.glodap.info). These successful efforts have resulted in two mature products with regular updates providing a key source of information on the global distribution and trends in biogeochemical EOVs in the surface ocean and the ocean interior, respectively. Both SOCAT and GLODAP have been used for a number of applications, including climate modelling and assessments. Please follow the links below to learn more about SOCAT and GLODAP, to access the newest product releases, and to submit your data.

IOCCP continues to support new ideas for future synthesis products related to for example dissolved oxygen measurements from multiple observing platforms, or for various applications requiring data from a global network of time series stations.

Responsible

SSG Member
| | | |
| --- | --- | --- |
| | | |
| GLOBAL OCEAN DATA ANALYSIS PROJECT | | SURFACE OCEAN CO2 ATLAS |
SOCATv2020 released in June 2020
On behalf more than 100 contributing scientists worldwide, we proudly announce the release of 2020 version of the Surface Ocean CO2 Atlas (SOCAT, www.socat.info) which is a synthesis activity with annual public releases prepared by international marine carbon scientists. SOCAT version 2020 contains 28.2 million in situ surface ocean fCO2 (fugacity of CO2) measurements for the global ocean and coastal seas with an accuracy < 5 μatm, while a further 2.3 million fCO2 values with an accuracy of 5 to 10 μatm are made available separately. SOCAT documents the increase in surface ocean CO2 (carbon dioxide), a critical measure as the oceans are taking up one quarter of the global CO2 emissions from human activity.
The SOCAT community-led synthesis product is a key step in the value chain based on in situ inorganic carbon measurements of the oceans, which provides policy makers with essential information on ocean CO2 uptake in climate negotiations. The global need for accurate knowledge of ocean CO2 uptake and its variation makes sustained funding for in situ surface ocean CO2 observations imperative. The annual SOCAT release is a Voluntary Commitment for SDG 14.3 (#OceanAction20464) and contributes to the UN Decade of Ocean Science for Sustainable Development. The poster handout has further details on 2020 version key features, findings and other information, including timeline for preparing the 2021 version.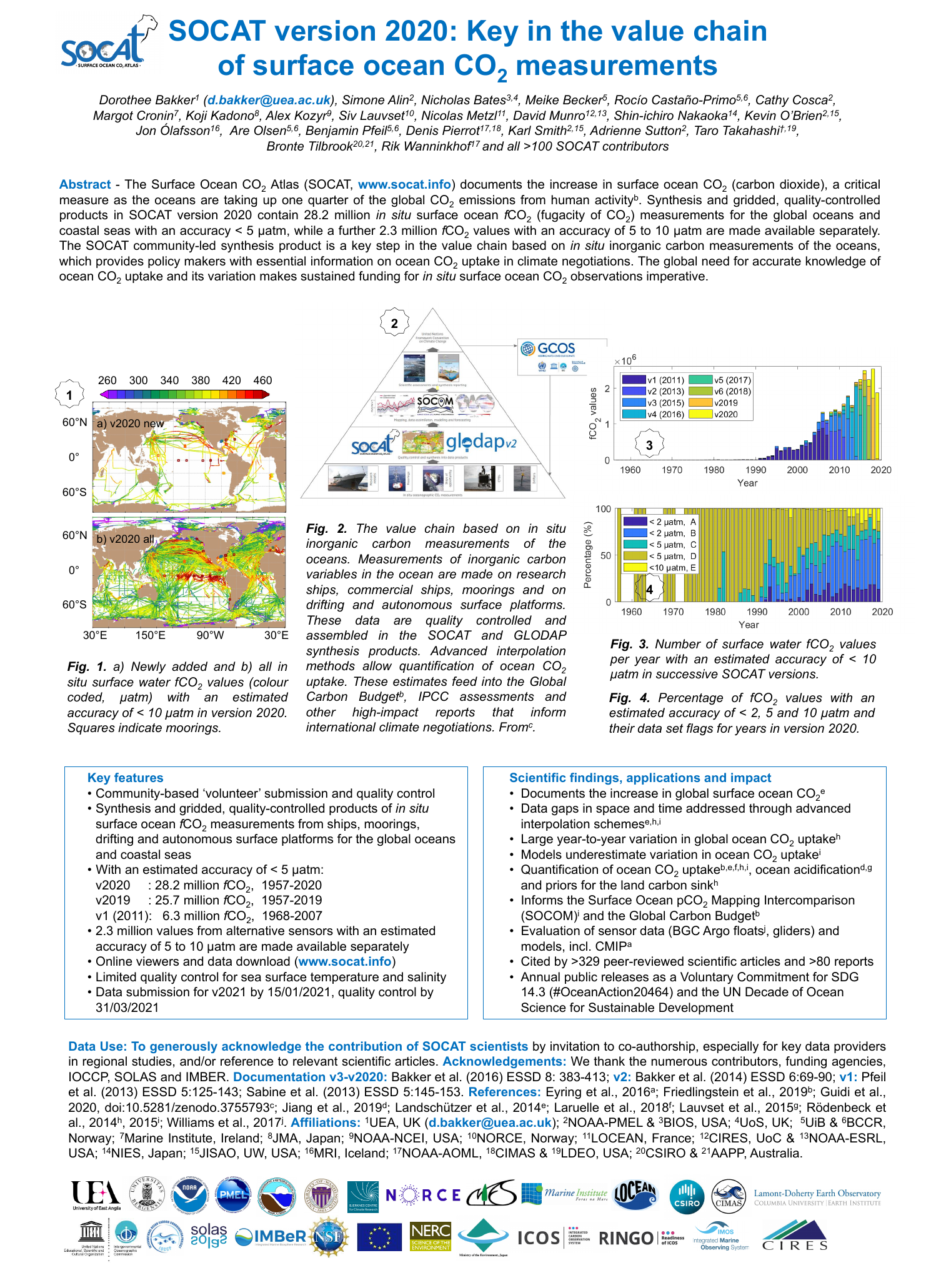 GLODAPv2.2020 released in June 2020
On behalf of the GLODAP Reference Group, and hundreds of seagoing oceanographers that tirelessly have collected data all over the ocean, we are happy to announce the publication of GLODAPv2.2020.
The Global Ocean Data Analysis Project (GLODAP) data product provides access to quality controlled surface to bottom ocean biogeochemical data, with an emphasis on seawater inorganic carbon. GLODAPv2.2020 is an update of the previous version, with 106 additional cruises, extension of time coverage until 2019, and the inclusion of available discrete fCO2 values in the merged product files. GLODAPv2.2020 includes measurements from more than 1.2 million water samples from the global ocean collected on 946 cruises. The data for the 12 core variables have undergone extensive quality control, especially systematic evaluation of bias. The data are available in two formats: (i) as submitted by the data originator but updated to WOCE exchange format and (ii) as a merged data product with adjustments applied to minimize bias. The original data, their documentation and doi codes are available at the Ocean Carbon Data System (OCADS) of NOAA NCEI. This site also provides access to the merged data product, which is provided as a single global file and as four regional ones. For a more detailed summary of the product see the attached poster.
The continuous work to regularly update and refine GLODAP is a priority for IOCCP, and we are happy to support this effort.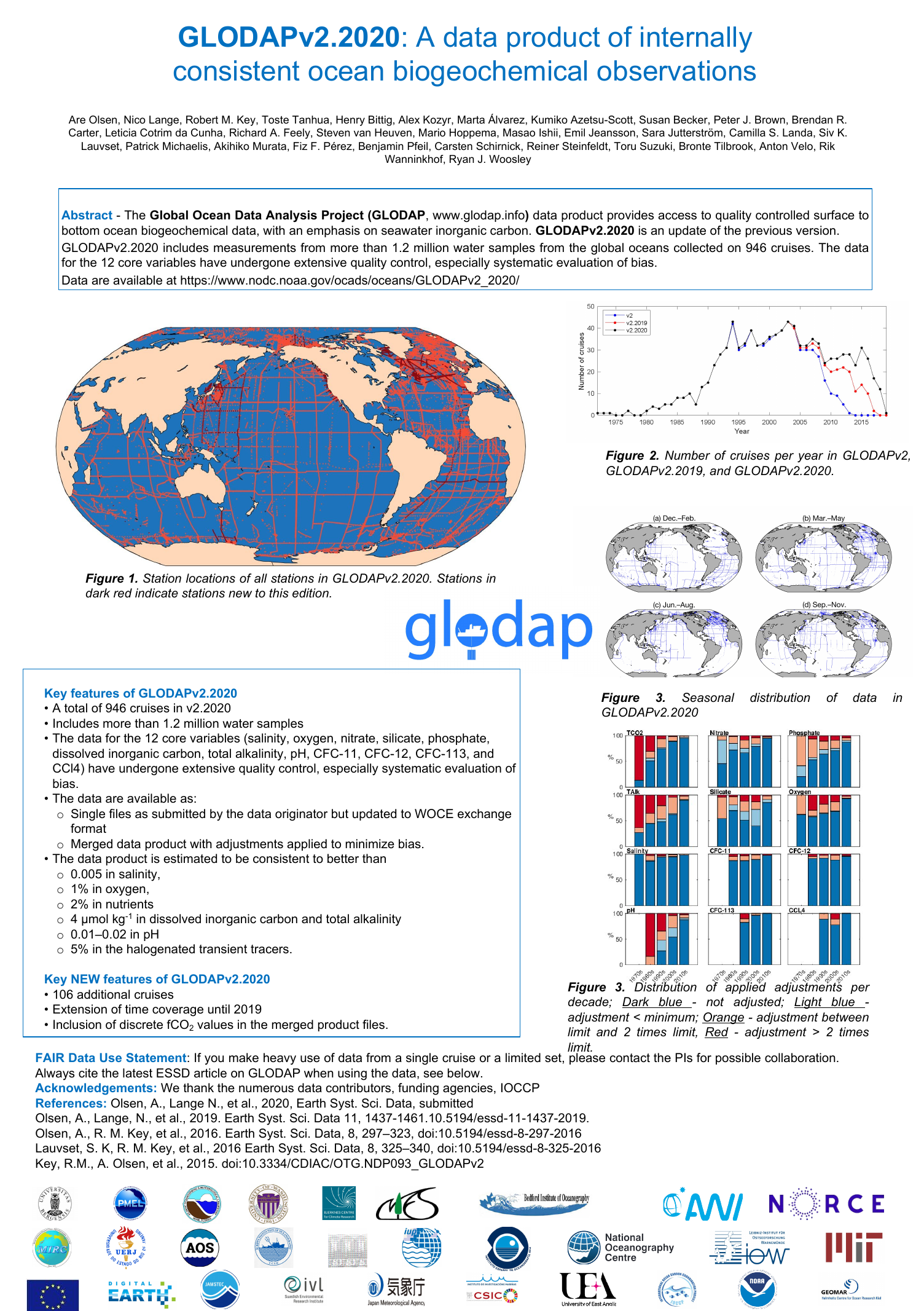 GLODAP: Background and history
Synthesis of ocean interior carbon and carbon-relevant data has been supported by IOCCP since the beginning of the project. Such data are of fundamental importance for accurate assessments of oceanic carbon inventories and uptake rates and for model validation. Over time, three efforts were initiated: GLODAP(v1.1), CARINA and PACIFICA.
All follow rigorous and ever-improving data quality control (QC) procedures to assure the highest possible internal data quality and consistency with other efforts. Key members of the international marine CO2 community over the past 4 years were assembling the new global carbon data product, Global Ocean Data Analysis v2 (GLODAPv2). This product assembles all past carbon and carbon-relevant data products covering interior ocean into one harmonized data package. Specifically the data from the previously assembled products CARINA, GLODAP v1.1 and PACIFICA. Additionally data from almost two hundred "new" cruises were added to this collection. IOCCP continues to support this challenging effort.
GLOBAL OCEAN DATA ANALYSIS PROJECT
The GLobal Ocean Data Analysis Project (GLODAP) is a cooperative effort to coordinate global synthesis projects funded through the U.S. National Oceanic and Atmospheric Administration (NOAA), the U.S. Department of Energy (DOE), and the National Science Foundation (NSF) as part of the Joint Global Ocean Flux Study - Synthesis and Modeling Project (JGOFS-SMP). Cruises conducted as part of the World Ocean Circulation Experiment (WOCE), JGOFS, and the NOAA Ocean-Atmosphere Exchange Study (OACES) over the decade of the 1990s have created an oceanographic database of unparalleled quality and quantity. These data provide an important asset to the scientific community investigating carbon cycling in the oceans. The central objective of this project is to generate a unified data set to help determine the global distributions of both natural and anthropogenic inorganic carbon, including radiocarbon. These estimates provide an important benchmark against which future observational studies will be compared. They also provide tools for the direct evaluation of numerical ocean carbon models.
ATLANTIC OCEAN CARBON SYNTHESIS GROUP
This project was initiated at the IOCCP-CarboOcean Initial Atlantic Ocean Carbon Synthesis Meeting, June 28-30 2006, Laugarvatn, Iceland. The meeting brought together 23 participants from 9 countries with expertise ranging from ship-based hydrography and carbon measurements, physical oceanography, surface pCO2 variability, CFC and tracer measurements, O2 on profiling floats, modeling, and data synthesis and management. During the meeting it was decided that the CARINA (Carbon in the Atlantic) data synthesis should be extended to include the Arctic and Southern Oceans. The Workshop participants developed three coordinated synthesis groups and a common data module:
North Atlantic working group (lead: Are Olsen, Bjerknes Center for Climate Research, Bergen, Norway)
Atlantic working group (lead: Toste Tanhua, IFM-GEOMAR, Kiel, Germany)
South Atlantic / Southern Ocean (lead: Mario Hoppema, AWI, Bremerhaven, Germany)
Data: Robert Key, Princeton University, USA
These groups met three times after the Iceland meeting; in Kiel, Germany (March 2007), Delmenhorst, Germany (December 2007) and Paris, France (June 2008) to tune the methodology and evaluate the results. Further more, an interactive website was developed that allowed the different investigators to upload and view results of the synthesis. By the end of 2008, the CARINA secondary quality control was finalized. After this the individual cruise data in WOCE exchange format, as well as three merged data products, were published on CDIAC (CARINA at CDIAC) and on CCHDO (CARINA at CCHDO). Working documents, and updates on follow-up activities are also available from the CDIAC website. In addition to these data, an ODV collection and Matlab routines to facilitate reading the data was added to the CIDAC site. The documentation of the CARINA project is primarily done through 20 articles published in a special issue in Earth System Science Data.
NORTH PACIFIC CARBON SYNTHESIS GROUP
This synthesis activity was launched with a workshop entitled "Understanding North Pacific Carbon-Cycle Changes: A Data Synthesis and Modeling Workshop", held in Seattle in June 2004. This workshop was sponsored by NOAA's Global Carbon Cycle Program with additional support from the North Pacific Marine Science Organization (PICES), The Global Carbon Project (GCP), and the University of Washington Program on Climate Changes (UWPCC). This workshop addressed 3 primary questions:
1. How are air-sea CO2 fluxes in the North Pacific affected by different modes of variability?
2. How and why are the North Pacific distribution patterns of carbon, nutrients and oxygen in the water column changing with time?
3. What are the requirements for detecting a climate change signal in the North Pacific carbon cycle?
A special section of the Journal of Geophysical Research entitled "North Pacific Carbon Cycle Variability and Climate Change" was published in 2006 (C. Sabine and N. Gruber, guest editors, Introduction doi:10.1029/2006JC003532). In 2005 this international collaboration was further formalized with the formation of the PICES Section on Carbon and Climate. A major data synthesis effort subsequently got underway. This project was known as PACIFICA and was coordinated by M. Ishii (Japan) and R. Key (United States). This project has adopted many of the methodologies developed by CARINA in the Atlantic and was expected to be completed in early 2013.
SOCAT: Background and history
Net CO2 absorption by the world's oceans is known to benefit human-kind by reducing the concentration of this greenhouse gas in the atmosphere, but the increase in ocean carbon also causes ocean acidification endangering marine organisms. Knowledge of year-to-year and decadal changes in oceanic CO2 uptake are essential for assessing the feedbacks between climate change and the ocean carbon cycle.

In 2007 the international ocean carbon community led by the IOCCP, SOLAS and IMBER initiated the Surface Ocean CO2 Atlas (SOCAT) project to ensure long-term access to high quality, regularly updated surface ocean CO2 data. First public release of SOCAT dataset took place on 14 September 2011 providing unrestricted access to 6.3 million surface water fCO2 (fugacity of carbon dioxide) measurements taken on 1851 cruises from 1968 to 2007.

Both the raw input data and the recalculated output data are publicly available and the methods used are fully documented on the SOCAT website. The unique aspect of this dataset is that the observations have been combined into a single uniform format and were quality controlled. To make the dataset user-friendly, it is available on the web through a sophisticated online data visualisation and manipulation tool called the Live Access Server. The LAS provides interactive maps that enable users to interrogate the data. Gridded monthly data are also available. Potential applications include carbon budgets, studies of seasonal, year-to-year and decadal variation in oceanic CO2 uptake, and research into the processes driving these. For a complete list of SOCAT impacts see here.

Regular updates to SOCAT are planned. The IOCCP continues to strongly support SOCAT efforts to further improve and streamline data submission, quality control and access procedures. The latest version 6 of SOCAT is available from www.socat.info.
Surface CO2 Observations - Exciting developments
US OCB Working Group - Filling the gaps in observation-based estimates of air–sea carbon fluxes working group
https://www.us-ocb.org/filling-the-gaps-in-observation-based-estimates-of-air-sea-carbon-fluxes-working-group/
Principle Investigators: Galen McKinley, Jessica Cross, Tim DeVries, Peter Landschützer, Goulven G. Laruelle, Nicole Lovenduski, Pedro Monteiro, Ray Najjar, Laure Resplandy, Adrienne Sutton, Rik Wanninkhof, and Nancy Williams
1st Meeting: May 5-6, 2020 at Lamont-Doherty Earth Observatory
Summary: A number of recent studies have applied novel statistical and machine-learning methods to in situ surface ocean carbon dioxide (CO2) observations to estimate the ocean carbon sink with unprecedented spatio-temporal resolution. These studies suggest that the oceanic CO2 sink is more variable on multiyear timescales than previously estimated from biogeochemical model simulations. This newly identified variability challenges our model-based mechanistic understanding and puts into question our projections of the future ocean carbon sink. These observation-based estimates, however, rely on extensive interpolation of limited observations, and thus their reliability is unclear, particularly in data-sparse regions and seasons. Furthermore, inconsistencies regarding the area covered by open and coastal ocean estimates hampers our ability to constrain CO2 fluxes across the full marine continuum (i.e., all tidal waters). The goal of this working group will be to assess critical uncertainties in existing observation-based products, determine how best to integrate observation-based open-ocean and coastal-ocean CO2 air–sea fluxes, and quantify uncertainties in the natural (pre-industrial) outgassing of CO2. These efforts will lead to better constraints on the contemporary ocean carbon sink and its variability. The results of this OCB Working Group will assist the global carbon community in understanding the state of the global carbon cycle so as to contribute to international efforts to address climate change.
For more information on the planned activities and expected impacts please see the full WG proposal.
Status of Surface CO2 Observations
Surface ocean pCO2 measurements are conducted on research vessels and ships of opportunity, as well as on moorings and surface gliders. This page shows the approximate status of the global network of these observations.
Ships of Opportunity / Volunteer Observing Ships
The map below illustrates the global network of Ships of Opportunity / Volunteer Observing Ships that collect underway pCO2 measurements. Currently, there are ships from 14 nations around the globe contributing to this component of the ocean observing system.
Last modified: November 2018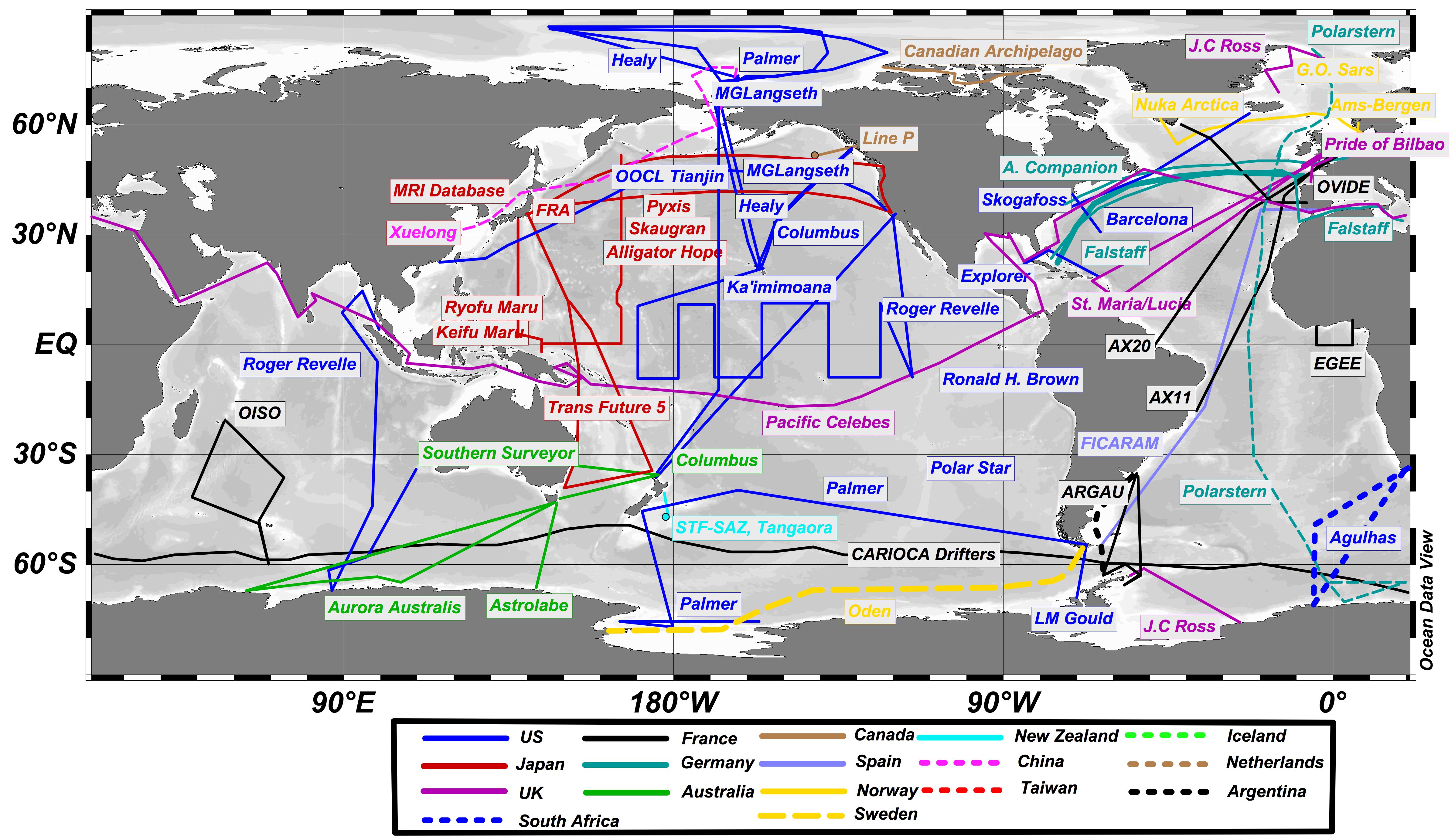 For more information on individual cruises and data, click on the section names using the interactive version of the map on the OCADS-NCEI site here: https://www.nodc.noaa.gov/ocads/oceans/VOS_Program/
Moorings
Below is a map of moorings with pCO2 measurements performed in open ocean (blue), coastal (green) and coral reef (red) settings. Interactive version of the map is available from NOAA PMEL Carbon Program at https://www.pmel.noaa.gov/co2/story/CO2+Data+Discovery
Last modified: February 2019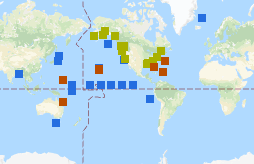 Integrated Carbon Observation System - Ocean Thematic Centre (ICOS OTC)
ICOS OTC maintains an array of ocean stations and cruise tracks along which underway CO2 observations are made. ICOS OTC is the European node of SOCONET. See the map below for the current status of the observing network.
https://www.google.com/maps/d/viewer?mid=1U-5GU87i7_ZhoZhYBS-tVHiUj3g&ll=55.37189057654185%2C-19.240893745319113&z=4
Surface CO2 Observations
The surface water measurement component of IOCCP facilitates coordination of current observational efforts and interactions with other observing efforts, advocates for common best practices, and facilitates incorporation of new technology with an overall aim to establish a global sustained surface ocean CO2 network. Read more...

 

 

Responsible

SSG Member

 

Surface Ocean CO2 Reference Observing Network:

 

INORGANIC CARBON EOV

 Specification Sheet 
PREFACE
Determination of surface water partial pressure/fugacity of carbon dioxide (pCO2/fCO2) is of great interest as it provides a means to determine flux of CO2 between the ocean and atmospheric and offers the opportunity to measure changes in surface water CO2 levels in support of ocean acidification research. Surface water CO2 levels are steadily increasing due to increasing atmospheric CO2 levels from anthropogenic sources, primarily burning of fossil fuels, and resulting increases in air-sea CO2 fluxes. However, the ocean CO2 sinks and surface water CO2 increases are not homogeneous in time of space. On a climatological scale the lower latitude oceans emit CO2 (CO2 sources) and higher latitude oceans sequester CO2 (CO2 sinks). Patterns change by season and are modulated by biological and physical processes. Multi-year anomalies are becoming apparent in the observational databases often linked to large-scale climate reorganizations such as the ENSO.
The surface water CO2 effort aims to quantify CO2 uptake and surface water CO2 changes on seasonal scales for the world's ocean to determine the sequestration of anthropogenic CO2, and elucidate the mechanisms of changing uptakes. This is in support of assessments of the fate of CO2 in the earth system and to determine impacts of rising and changing surface CO2 levels on ocean ecosystems. The observations are done from a variety of platforms with automated instrumentation. Currently most measurements are done on ships of opportunity (SOOP-CO2) and surface moorings utilizing similar systems that measure the CO2 content in the headspace of a chamber (equilibrator) that had seawater flowing through it such that headspace and water have the same CO2 concentrations. The infrared detectors used are calibrated at frequent intervals with traceable atmospheric standard gases providing a key link between surface water and atmospheric CO2 levels.
New instrumentation and new platforms are coming on line that will enhance the surface water CO2 observing network. These include smaller instruments with different calibration and equilibration procudures, and different detectors such as spectrophotometers. Autonomous surface vehicles utilizing wave, solar and wind power are being tested and deployed. Using pH measurements [on profiling floats] to calculate pCO2 is being investigated. In order to include these measurements into the surface water CO2 data holdings, careful tests and intercomparisons must be accomplished.
Instruments and sensors: projects and programs
Below is a list of a number of projects, programs and initiatives related to marine biogeochemistry instruments and sensors, their development and application for the benefit of further instrumenting our oceans. These projects are either global or regional in nature. Please contact the IOCCP Office with suggestions to complement or update this list.
Instruments and sensors: references
Following is a list of references related to marine biogeochemistry instruments and sensors, and their application. Please contact the IOCCP Office if you have any comments, questions or suggestions for additional resources useful to the community.
DISSOLVED INORGANIC CARBON
ALKALINITY
Dickson, A.G., Afghan, J.D. and Anderson, G.C., 2003. Reference materials for oceanic CO2 analysis: a method for the certification of total alkalinity. Marine Chemistry, 80(2), pp.185-197.
Spaulding, R. S., DeGrandpre, M. D., Beck, J. C., Hart, R. D., Peterson, B., De Carlo, E. H., et al. (2014). Autonomous in situmeasurements of seawater alkalinity. Environ. Sci. Technol. 48, 9573–9581. doi: 10.1021/es501615x
Seelmann, K., S. Aßmann, A. Körtzinger, 2019. Characterization of a novel autonomous analyzer for seawater total alkalinity: Results from laboratory and field tests. Limnol Oceanogr Methods, 17: 515-532. doi:10.1002/lom3.10329
Seelmann, K., M. Gledhill, S. Aßmann, A. Körtzinger, 2020. Impact of impurities in bromocresol green indicator dye on spectrophotometric total alkalinity measurements. Ocean Sci. doi: 10.5194/os-16-535-2020.
pCO2
Sutton, A. J., Sabine, C. L., Maenner-Jones, S., Lawrence-Slavas, N., Meinig, C., Feely, R. A., Mathis, J. T., Musielewicz, S., Bott, R., McLain, P. D., Fought, H. J., and Kozyr, A.: A high-frequency atmospheric and seawater pCO2 data set from 14 open-ocean sites using a moored autonomous system, Earth Syst. Sci. Data, 6, 353-366, https://doi.org/10.5194/essd-6-353-2014, 2014.
Jiang, Z.-P., Hydes, D. J., Tyrrell, T., Hartman, S. E., Hartman, M. C., Campbell, J. M., Johnson, B. D., Schofield, B., Turk, D., Wallace, D., Burt, W., Thomas, H., Cosca, C., and Feely, R.: Application and assessment of a membrane-based pCO2 sensor under field and laboratory conditions. Limnology and Oceanography Methods, 12, 264-280, 2014.
DeGrandpre, M.D., Baehr, M.M. and T.R. Hammar. (1999). Calibration-free optical chemical sensors. Anal. Chem., 71, 1152-1159. DeGrandpre, M.D., Hammar, T.R., Smith, S.P., and F.L. Sayles. (1995). In situ measurements of seawater pCO2. Limnol. Oceanog., 40, 969-975.
DeGrandpre, M. D. (1993). Measurement of seawater pCO2 using a renewable-reagent fiber optic sensor with colorimetric detection. Anal. Chem. 65, 331–337. doi: 10.1021/ac00052a005
DeGrandpre, M. D., Baehr, M. M., and Hammar, T. R. (2000). "Development of an optical chemical sensor for oceanographic applications: the submersible autonomous moored instrument for seawater CO2," in Chemical Sensors in Oceanography, ed M. S. Varney (Amsterdam: Gordon and Breach publisher), 123–141.
Atamanchuk, D., Tengberg, A., Thomas, P. J., Hovdenes, J., Apostolidis, A., Huber, C., et al. (2014). Performance of a lifetime-based optode for measuring partial pressure of carbon dioxide in natural waters. Limnol. Oceanogr. Methods 12, 63–73. doi: 10.4319/lom.2014.12.63
Fietzek, P., B. Fiedler, T. Steinhoff, and A. Körtzinger (2014). In situ accuracy assessment of a novel underwater pCO2 sensor based on membrane equilibration and NDIR spectrometry. J. Atm. Ocean. Techn. 31, 181-196.
Fiedler, B., P. Fietzek, N. Vieira, P. Silva, H.C. Bittig, and A. Körtzinger (2013). In situ CO2 and O2 measurements on a profiling float. J. Atm. Ocean. Techn. 30, 112-126, DOI: 10.1175/JTECH-D-12-00043.1.
Chierici, M.; Fransson, A. and Nojiri, Y., (2006), Biogeochemical processes as drivers of surface fCO2 in contrasting provinces in the subarctic North Pacific Ocean, Global Biogeochem. Cycles 20 GB1009 doi:10.1029/2004GB002356. Murphy, P.P.; Nojiri, Y.; Fujinuma, Y.; Wong, C.S.; Zeng, J.; Kimoto, T. and Kimoto, H., (2001), Measurements of Surface Seawater fCO2 from Volunteer Commercial Ships: Techniques and Experiences from Skaugran, J. Atmos. Ocn. Tech. 18 1719-1734. Nakaoka, S., Nojiri, Y. Miyazaki, C. Tsumori, H. and Mukai, H., (2009) Variations of oceanic pCO2 and air-sea CO2 flux in the North Pacific Ocean since 1995, Proceeding of 8th International Carbon Dioxide Conference, T2-059, Jena, Germany.
Characterization of a Time-Domain Dual Lifetime Referencing pCO2 Optode and Deployment as a High-Resolution Underway Sensor across the High Latitude North Atlantic Ocean. Front. Mar. Sci. 4:396. doi: 10.3389/fmars.2017.00396
Clarke, J.S. et al. (2017) Developments in marine pCO2 measurement technology; towards sustained in situ observations. TRAC-Trends in analytical chemistry. 88. 351-354. doi: 10.1016/j.trac.2016.12.008
pH
Bresnahan, P.J., Martz T.R., Takeshita Y., Johnson K.S., LaShomb M.. 2014. pdfBest practices for autonomous measurement of seawater pH with the Honeywell Durafet, Methods in Oceanography 9, 44-60, doi:10.1016/j.mio.2014.08.003
Martz, T. R., Carr, J. J., French, C. R., and DeGrandpre, M. D. (2003). A submersible autonomous sensor for spectrophotometric pH measurements of natural waters. Anal. Chem. 75, 1844–1850. doi: 10.1021/ac020568l
Bellerby, R. G. J., Olsen, A., Johannessen, T., and Croot, P. (2002). A high precision spectrophotometric method for on-line shipboard seawater pH measurements: the automated marine pH sensor (AMpS). Talanta 56, 61–69. doi: 10.1016/S0039-9140(01)00541-0
Martz, T. R., Connery, J. G., and Johnson, K. S. (2010). Testing the Honeywell Durafet® for seawater pH applications. Limnol. Oceanogr. Methods 8, 172–184. doi: 10.4319/lom.2010.8.172
Rérolle V., Ruiz-Pino D., Rafizadeh M., Loucaides S., Papadimitriou S., Mowlem M. & Chen J., (2016). Measuring pH in the Arctic Ocean: colorimetric method or SeaFET? Methods in Oceanography 17: 32–49.
Reggiani, E. R., King, A. L., Norli, M., Jaccard, P., Sørensen, K., & Bellerby, R. G. (2016). FerryBox-assisted monitoring of mixed layer pH in the Norwegian Coastal Current. Journal of Marine Systems.
Clarke, Jennifer S.; Achterberg, Eric P.; Rerolle, Victoire M. C.; et al. (2015) Characterisation and deployment of an immobilised pH sensor spot towards surface ocean pH measurements. Analytica chimica acta Volume: 897 Pages: 69-80
Okazaki, R. R., Sutton, A. J., Feely, R. A., Dickson, A. G., Alin, S. R., Sabine, C. L., et al. (2017). Evaluation of marine pH sensors under controlled and natural conditions for the Wendy Schmidt ocean health XPRIZE. Limnol. Oceanogr. Methods 15, 586–600. doi: 10.1002/lom3.10189
Lai C-Z, DeGrandpre MD and Darlington RC (2018) Autonomous Optofluidic Chemical Analyzers for Marine Applications: Insights from the Submersible Autonomous Moored Instruments (SAMI) for pH and pCO2. Front. Mar. Sci. 4:438. doi: 10.3389/fmars.2017.00438
PARTICULATE CARBON
Boss, E., Guidi, L., Richardson, M. J., Stemmann, L., Gardner, W., Bishop, J. K., ... & Sherrell, R. M. (2015). Optical techniques for remote and in-situ characterization of particles pertinent to GEOTRACES. Progress in Oceanography, 133, 43-54.
Bishop, J. K. B. (2009) Autonomous Observations of the Ocean Biological Carbon Pump. Oceanography , 22 (2), 182-193.
NUTRIENTS
Thouron, D., Vuillemin, R., Philippon, X., Lourenço, A., Provost, C., Cruzado, A., et al. (2003). An autonomous nutrient analyzer for oceanic long-term in situ biogeochemical monitoring. Anal. Chem. 75, 2601–2609. doi: 10.1021/ac020696+
Sakamoto, C. M., Johnson, K. S., & Coletti, L. J. (2009): Improved algorithm for the computation of nitrate concentrations in seawater using an in situ ultraviolet spectrophotometer. Limnology and Oceanography: Methods, 7(1), 132-143.
Riser, S.C., Johnson, K.,Lewis, M.R., Altshuler, T. (2011): Autonomous Measurements of Oceanic Dissolved Nitrate from Commercially Available Profiling Floats Equipped with ISUS APPROVED FOR PUBLIC RELEASE doi:ADA555146
Legiret, F. E., Sieben, V. J., Woodward, E. M., Abi Kaed Bey, S. K., Mowlem, M. C., Connelly, D. P., et al. (2013). A high performance microfluidic analyser for phosphate measurements in marine waters using the vanadomolybdate method. Talanta 116, 382–387. doi: 10.1016/j.talanta.2013.05.004
Grand, M.M. et al. (2017) A Lab-On-Chip Analyzer for Long-Term in Situ Monitoring at Fixed Observatories: Optimization and Performance Evaluation in Estuarine and Oligotrophic Coastal Waters. Front. Mar. Sci., doi.org/10.3389/fmars.2017.00255]
Clinton-Bailey, Geraldine S. et al. (2017) A Lab-on-Chip analyzer for in situ measurement of soluble reactive phosphate: improved phosphate blue assay and application to fluvial monitoring. Environmental Science & Technology, 51 (17). 9989-9995.10.1021/acs.est.7b01581
Barus C, Chen Legrand D, Striebig N, Jugeau B, David A, Valladares M, Munoz Parra P, Ramos ME, Dewitte B and Garçon V (2018) First Deployment and Validation of in Situ Silicate Electrochemical Sensor in Seawater. Front. Mar. Sci. 5:60. doi: 10.3389/fmars.2018.00060
OTHER
Tedetti, M., Joffre, P., and Goutx, M. (2013). Development of a field-portable fluorometer based on deep ultraviolet LEDs for the detection of phenanthrene- and tryptophan-like compounds in natural waters. Sens. Actuat. B Chem. 182, 416–423. doi:10.1016/j.snb.2013.03.052
Cyr F, Tedetti M, Besson F, Beguery L, Doglioli AM, Petrenko AA and Goutx M (2017) A New Glider-Compatible Optical Sensor for Dissolved Organic Matter Measurements: Test Case from the NW Mediterranean Sea. Front. Mar. Sci. 4:89. doi: 10.3389/fmars.2017.00089
Instruments and sensors: resources
Following is a list of various resources related to marine biogeochemistry instruments and sensors, and their application. Please contact the IOCCP Office if you have any comments, questions or suggestions for additional resources useful to the community.
Alliance for Coastal Technologies (ACT) evaluation reports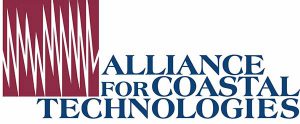 You can find all the evaluation reports at:
http://www.act-us.info/evaluations.php
Calendar
| | |
| --- | --- |
| | IOCCP meetings, IOCCP-related meetings as well as events related to a wider scope in marine biogeochemistry. |