The need for coordinated, worldwide information-gathering on ocean acidification and its ecological impacts is now widely recognized.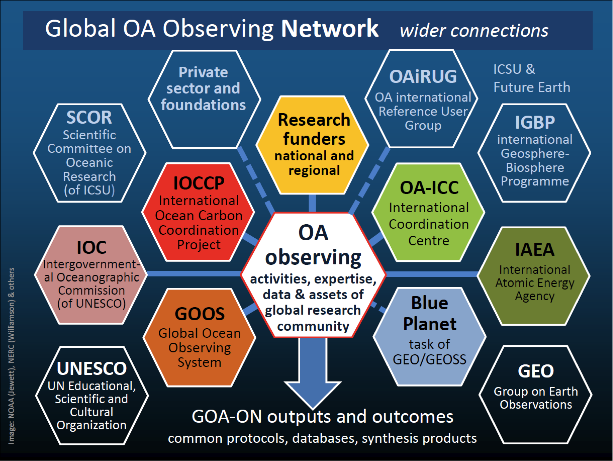 Building on the first international meeting to focus on this issue, held at the University of Washington, Seattle in June 2012, a second workshop to plan a global observing network for ocean acidification was held at St Andrews, UK, 24-26 July 2013. A total of 87 participants from 26 countries and 4 international bodies attended. Support was provided by the UK Ocean Acidification research programme, the IOCCP; the Ocean Acidification International Coordination Centre, the UK Science & Innovation Network, the NOAA Ocean Acidification Program, the Global Ocean Observing System Project Office, the Intergovernmental Oceanographic Commission of UNESCO, and the University of Washington. The workshop was hosted by the University of St Andrews and followed the UKOA Annual Science Meeting, when around 100 researchers from the UK programme discussed their recent findings.
At the end of the St Andrews workshop, the participants declared the Global Ocean Acidification Observing Network (GOA-ON) to be "established", with a preliminary governance structure. Thus it was decided that, until a more formal arrangement is made, the organizing committee of the 2nd workshop would provide the basis for the GOA-ON Executive Council (see below for members). The main national and international entities directly represented on the Executive Council are expected to continue to provide both in-kind and direct support for GOA-ON organizational activities, including future meetings and staff involvement, with additional support potentially available for training, technological infrastructure and other forms of capacity building.
The St Andrews workshop website was hosted by NOAA Pacific Marine Environmental Laboratory, matching the GOA-ON site developed for the 2012 meeting in Seattle. A new, integrated GOA-ON website is now finalized and will be updated with all relevant developments. This website include the latest version of the interactive map of global OA-related observing activities, as developed by Cathy Cosca with input from many global partners. The map represents the best information available on the current inventory of global OA observing, and provides a tangible means for increasing awareness and coordination between network partners and others with interests.
The St Andrews workshop successfully built on previous progress; in particular, the report "Toward a Global Ocean Acidification Observing Network" (available here). The overarching goal of the second meeting was to refine the vision for the structure of GOA-ON, with emphasis on standardizing the monitoring of ecosystem impacts of OA (see Goal 2 below) in shelf and coastal seas. The main product from St Andrews will be the GOA-ON Plan, due for release in January 2014. This will cover broad concepts as well as details on how to meet the network's three high level goals, initially identified in 2012. These comprise:
Goal 1 Provide an understanding of global OA conditions:
o Determine status of and spatial and temporal patterns in carbon chemistry, assessing the generality of response to OA
o Document and evaluate variation in carbon chemistry to infer mechanisms (including biological mechanisms) driving OA conditions
o Quantify rates of change, trends, and identify areas of heightened vulnerability or resilience.
Goal 2 Provide an understanding of ecosystem response to OA:
o Track biological responses in concert with physical/chemical changes
o Quantify rates of change and identify locations as well as species of heightened vulnerability or resilience.
Goal 3 Provide data necessary to optimize modeling for OA:
o Provide spatially and temporally resolved biogeochemical data for use in parameterizing and validating models including initial and boundary conditions.
The St Andrews workshop focused on the optimal observing systems to detect ecosystem impacts of OA in various, large scale ecosystem types, including Tropical Regional Seas, Temperate Regional Seas, Polar Regional Seas, Warm and Cold-water Corals, and Nearshore, Intertidal and Estuarine Habitats. This is a developing effort, and there may be need for further workshops to finalize detailed protocols for OA-relevant biological observing on a habitat- or regionally-specific basis. The potential scope for such biological observing is extremely wide, and it is therefore essential that GOA-ON builds on, and works in close liaison with, the Global Ocean Observing System and its Framework for Ocean Observation, currently in preparation through biogeochemical, biological and coastal panels.
In addition to giving information and guidance on observing approaches appropriate to the three main goals, the GOA-ON Plan will also set out:
the proposed GOA-ON governance structure, summarized diagrammatically above on the basis of main linkages

the groundwork for international OA data sharing arrangements, based on defined data and metadata standards, and open access to observing data.
The following representatives of the community formed the first GOA-ON Executive Council:
Co-chairs: Phillip Williamson (UK – UKOA/NERC), Libby Jewett (US - NOAA).
Members: Richard Bellerby (Norway - NIWA), Chen-Tung Arthur Chen (Taiwan – National Sun Yet-Sen University), Richard Feely (US – NOAA, IOCCP), Albert Fischer (GOOS), Lina Hanssen (OA-ICC), Jeremy Mathis (US – NOAA), Petro Monteiro (South Africa - CSIR), Jan Newton (US – University of Washington/IOOS), Yukihiro Nojiri (Japan – NIES), Maciej Telszewski (IOCCP), Bronte Tilbrook (Australia – CSIRO), Jorge Luis Valdes (IOC).